Michael Lumish
The Democratic Party and the progressive-left is becoming increasingly hostile toward the nation-state of the Jewish people.
This has been coming for decades.
If you look at this 2018 poll from the
Pew Research Center
you will see that currently, about 79 percent of Republicans favor Israel, while the great majority of Democrats do not. Only 27 percent of Democrats favor the Jews in the Middle East versus their racist, misogynistic, theocratic Islamist enemies, such as Hamas and Hezbollah, if not the Palestinian Authority.
And we might keep in mind that many those same people are not just hostile toward Israel - for "social justice" reasons, no less - but toward the United States, as well.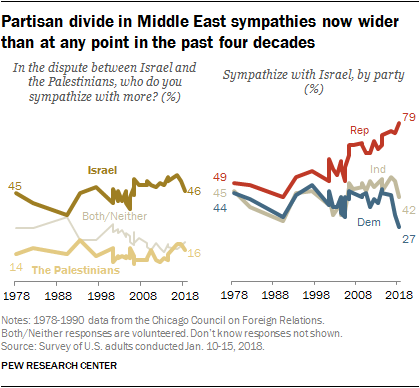 In a recent Facebook comment, I referenced the fact that "it is definitely true that Republicans are more supportive of Israel than are Democrats. It's not even close." And I used the Pew Research Center image above as significant evidence of that fact.
Someone who I take to be an intelligent person responded with this:
Do you realize how 'incendiary' this is!!

The idea [which Hadassah follows and AIPAC follows] is to be bipartisan.

And at this time in Jewish history, when there is such a division and almost a tear amongst the Jewish population, how utterly DUMB and counterproductive to dwell on it rather than mend fences. The word 'divisive' doesn't cut it. It is smug and moronic for Friedman to write this; he might as well just go whole hog up Trump's rear end. ...And by the way, I don't actually think it's true! The people who were at the Times Square 'afterparty' after the Celebrate Israel parade - they were not Republicans! Yes, they are firm believers and supporters of Israel, but they were the Tel Aviv crowd, the music lovers, the hip-hop liberal generation. If surveys were done there... wow, that would have been fantastic on who voted for Trump in that crowd. Would have been way less than u think.
This is my response:
Sandy, I believe that I understand your concerns and I agree with Dershowitz that it is preferable that pro-Jewish / pro-Israel support in the US continue to be bipartisan. But we cannot afford to avoid the truth.

And the truth is that the progressive-left and the Democratic Party has betrayed not only their Jewish constituency but their own alleged values in the process.

I am one of those who have left the Democratic Party due to its acceptance of hostility toward Israel within their ranks.

My stance is that we must not allow the Democratic Party to take us for granted... as they have Black people.

The Democrats need to understand that we Jews have political options that do not necessarily include donating to their coffers.

At the same time, I respect those of us (and our non-Jewish friends) who work within the party to stem a terrible anti-Israel / anti-Jewish trend within that party.

I wish you the very best, but Democratic Party trends are not in our favor.